2020.02.25

UNOPS set up shop in Kobe

Recognising the good work and potential of Kobe's 500 Accelerator Program, UNOPS has chosen Kobe as the location for its Global Innovation Center. The centre will act as a two-way channel between Japanese technology companies and entrepreneurs, UN organizations, other UNOPS Global Innovation Centres and a global network of innovation partners. The center aims to better equip startups to tackle Sustainable Development Goals (SDGs) and address global challenges. The centre is one of the first big steps for Kobe as it commits to achieving SDGs in new and innovative ways.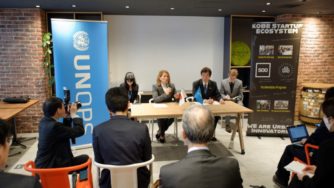 ■UNOPS -  Kobe Global Innovation Center
The 500 Kobe Accelerator Program, which will enter its fourth year in 2020, was established to boost Kobe's existing industries and to promote emerging and new industry growth in the city such as aerospace, renewable energy, and health tech. The accelerator program brings 500Accelerator's global team from Silicon Valley to mentor locally and internationally based startups looking to operate in Kobe. The program is the first of its kind undertaken by a local government outside of the Unites States of America.