2021.05.25

The historic port of Kobe
Since the 9th century, Kobe has played a critical role in shipping and trade, fostering an outward-looking spirit that encouraged the city and its people to embrace and adopt different cultures. To this day the port remians a driving force behind the city's economic and cultural development.
In 1868, Kobe became a major international trading port as one of the first ports in Japan to be opened to trade with the West, a move that turned it into an industrial powerhouse with heavy industry giants, Kawasaki and Mitsubishi calling the the city home. Although heavy industry and manufacturing is still a key part of Kobe's economy, in the 1990s city officials began to invest in newer fields such as medical care and IT, turning it into a leading centre for technological advances and innovation.
Today, over 150 years since the opening of the port, Kobe is a cosmopolitan city, home to 1.5 million people from more than 130 countries and is fast becoming the city of choice for people and organisations attracted by its history, innovation and international mindset.
With numerous new developments currently taking place and with more on the horizon, Kobe's port is set to remain as the city's economic and cultural heart for many years to come.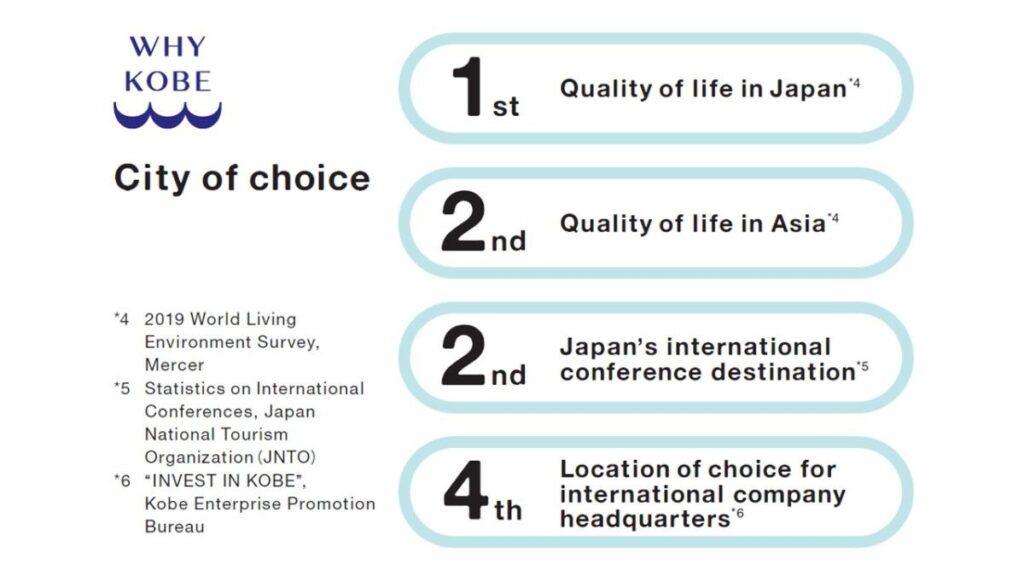 10,000 capacity arena to be built on Kobe waterfront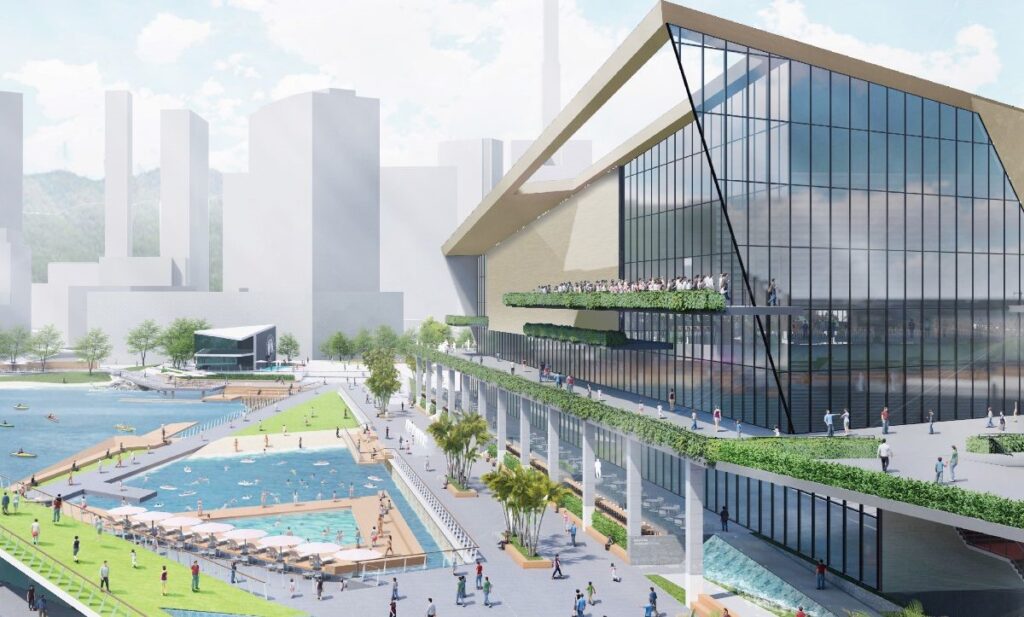 Image courtesy of Kobe City
Last month Kobe city announced the construction of a new 10,000 capacity arena as part of a larger area revitalisation plan for the waterfront of Kobe, which has up until recent times served as a logistics hub for the port.
Scheduled to be completed by the end of 2024, the arena which will be used predominantly for professional sporting events, concerts and international conferences, and will be one of the largest in the Kansai region, which includes Osaka and Kyoto. The construction of the arena will also include numerous indoor and outdoor dining facilities, an event space (with a max capacity of 3,000) and a surrounding green area that will serve as a park and recreation space.
The arena is just one part of the revitalisation plan for the waterfront just south of the city centre. The plan also include a theatrical aquarium, chocolate museum and a classic car museum that are all on scheduled to open autumn 2021.
The iconic Kobe Port Tower will also be renovated in 2023 to include new viewing platforms and dining facilities, and the city is putting plans in place to connect the popular shopping and dining district Harborland with the newly revitalised waterfront area via cable car by 2025, promising passengers spectacular views of the harbour, city and surrounding mountains.
With the revitalisation of the waterfront and projects touched on above scheduled to be completed in the next two to three years, Kobe is set to become an even more attractive and user friendly city. To those who find themselves in Japan for the World Expo taking place in Osaka in 2025, we highly recommend the short trip across the harbour to check out Kobe's newly renovated waterfront.
Exclusive MICE experiences on Kobe's waterfront
The Kobe Convention Bureau offers a variety of exclusive experiences for MICE groups that focus on Kobe's waterfront and harbour.
Take a private cruiser from Harborland out to Awaji Island and ascend the world's longest and highest suspension bridge, the Akashi Kaikyo Bridge. Climb aboard your own boat for an authentic Japanese summer dance festival while cruising the harbour, or hold an outdoor party in the iconic Meriken Park looking out over the ocean with views of Kobe's iconic Port Tower, Ferris wheel and the city skyline set against the breathtaking Rokko Mountain Range.
For more information on Kobe Convention Bureau's exclusive MICE experiences check our website or contact us directly.
New promotional materials
■5 videos
https://kobe-convention.jp/en/promotion-tools/videos/
In addition to three videos aimed at academic conferences and incentives, we have created 15-second and 30-second commercial style videos, ideal for online broadcasts during hybrid and online conferences
■Meeting Planner's Guide
https://kobe-convention.jp/en/promotion-tools/planners-guide/
■Website update
https://kobe-convention.jp/en/
A variety of giveaways and promotional tools for organisers and delegates including posters, congress bags, pens, and more.